Meet Our Staff
Our staff here at Exotic Motorsports of Oklahoma is here for your convenience. Feel free to contact us with questions or for a test drive.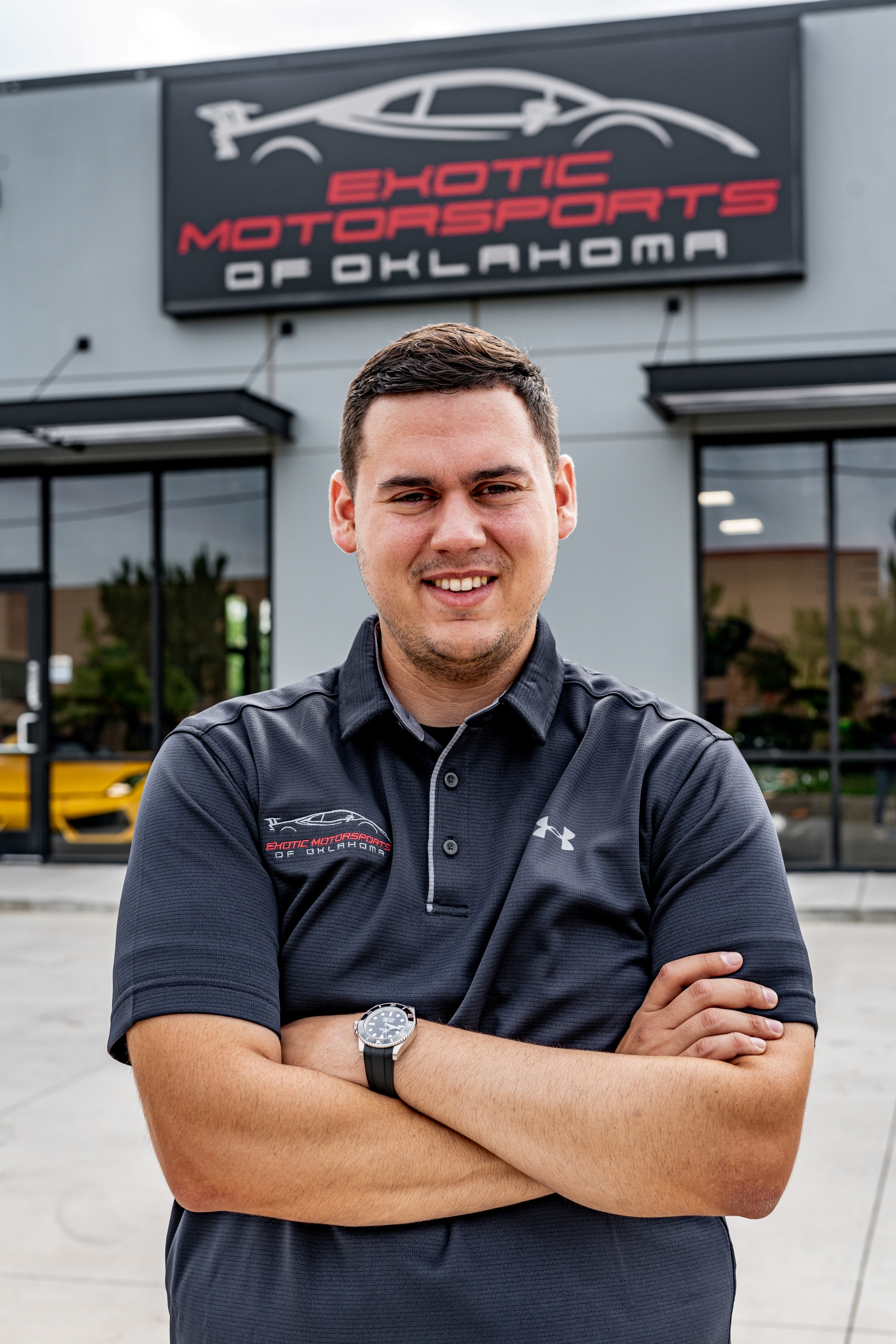 Braiden Bond
My name is Braiden Bond and I was born in Oklahoma City in 1993. I attended school in Yukon and graduated from Yukon High School in 2011. After graduation I enrolled in college at Redlands Community College. After 1 year at Redlands I transferred to OSU to study Construction Management and graduate with an associate's degree in Construction Technology and Construction Management. I always had a big passion for cars growing up that has stuck with me all through out my life. I remember my grandfather taking me to local dealerships on Saturdays so I could walk around the showrooms and check out all of the cars. Anything that involved cars fascinated me, I couldn't get enough. Growing up, I always dreamed of owning a car dealership of some sort or being in any profession that involved cars. The car community here in Oklahoma City is so large I always wondered why there wasn't a dealership that specialized in sports cars. After I graduated college in December of 2017, I approached Eliud with the idea of opening up an exotic car dealership and in June of 2018 we opened Exotic Motorsports of Oklahoma.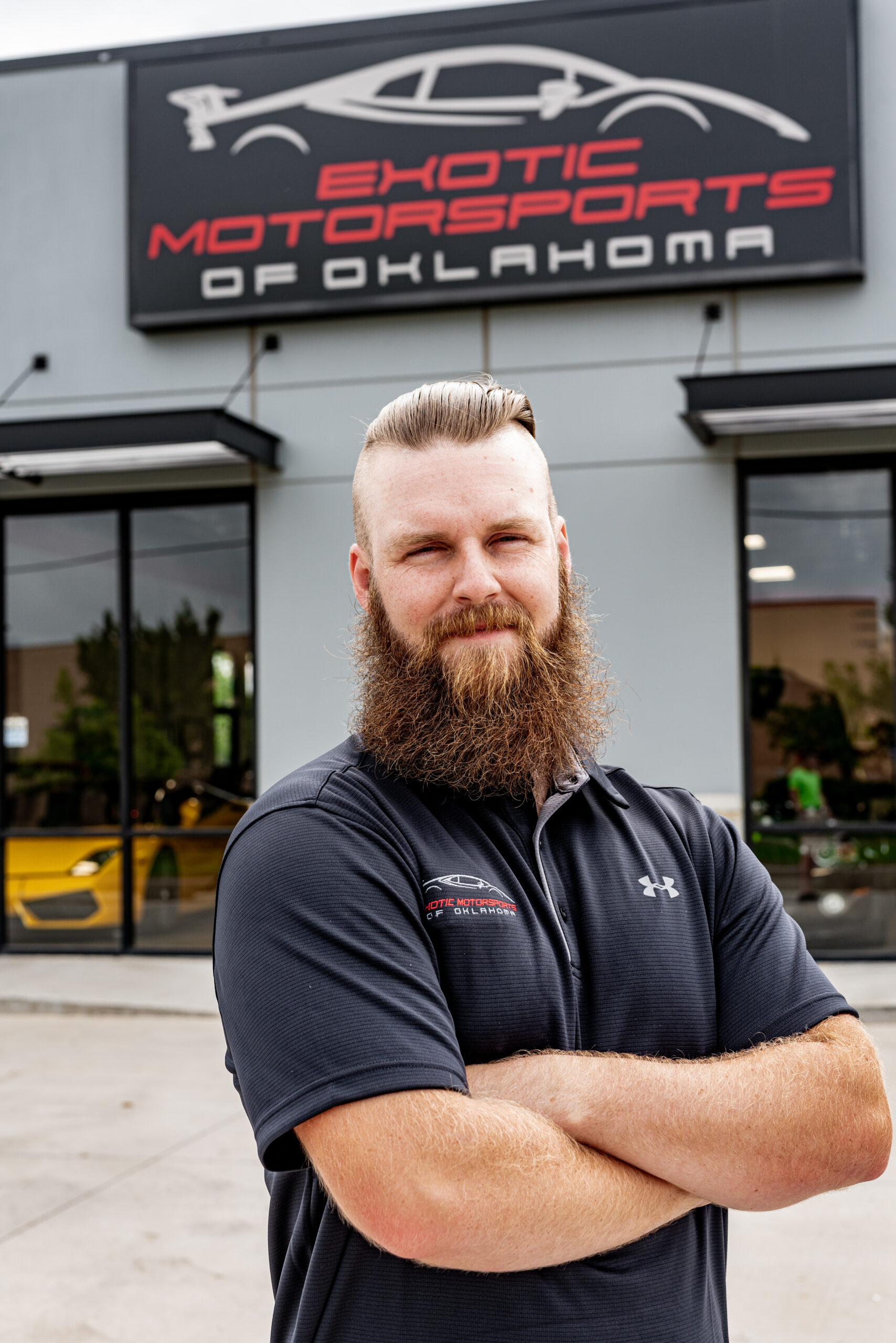 Seth Fox
My name is Seth Fox. I've spent most of my life as some form of mechanic. I was an auto mechanic for a few years, prior and during my enlistment. I served in the US Air Force from 2012-2019 as a diesel mechanic. I retired from the Air Force due to a diagnosis of Lupus and Rheumatoid Arthritis. I found my love for computers about 2 years before I retired. I built all kinds of beautiful, custom water-cooled PCs for people all over the US. That leads me to the purchase of my first camera. I bought a Canon SL2, to record informative and entertaining videos for my fanbase on youtube. It gave clients a better sense of my work and attention to detail. I became tired of building PCs after roughly a year. My interest in the camera, however, did not fade. I started off photographing Oklahoma City landscapes, and friends' cars. My deep roots as a mechanic has always had me tied to the automotive community. Shortly after establishing my business as a sole proprietorship, I knew the best way for success was to create a long lasting relationship with a business that would benefit from my work. I tried a few automotive shops, a few cannabis businesses, and some others. Finding a client to provide continuous support for was difficult. Spring of 2019, I messaged the Exotic Motorsports of Oklahoma page, and reached out to see if they could use my services. They declined. I reached out again 6 months later, and had a more in-depth conversation about what I could bring to the table. Eliud had been doing all of the inventory photos, vehicle descriptions, and walkaround videos himself after hours, sometimes not even making it home for the night. I shot 2 cars as a demo, and Eliud and Braiden both agreed they could use my help to carry some of the weight of managing the inventory. From September 2019 to June of 2020, all I did was provide photos. In July 2020, I became the inventory manager. At this point, I became responsible for processing the inventory entirely. Working with Exotic Motorsports of Oklahoma has been an overwhelmingly positive experience, and has allowed me to do what I love for a living, as well as be a part of some unforgettable experiences!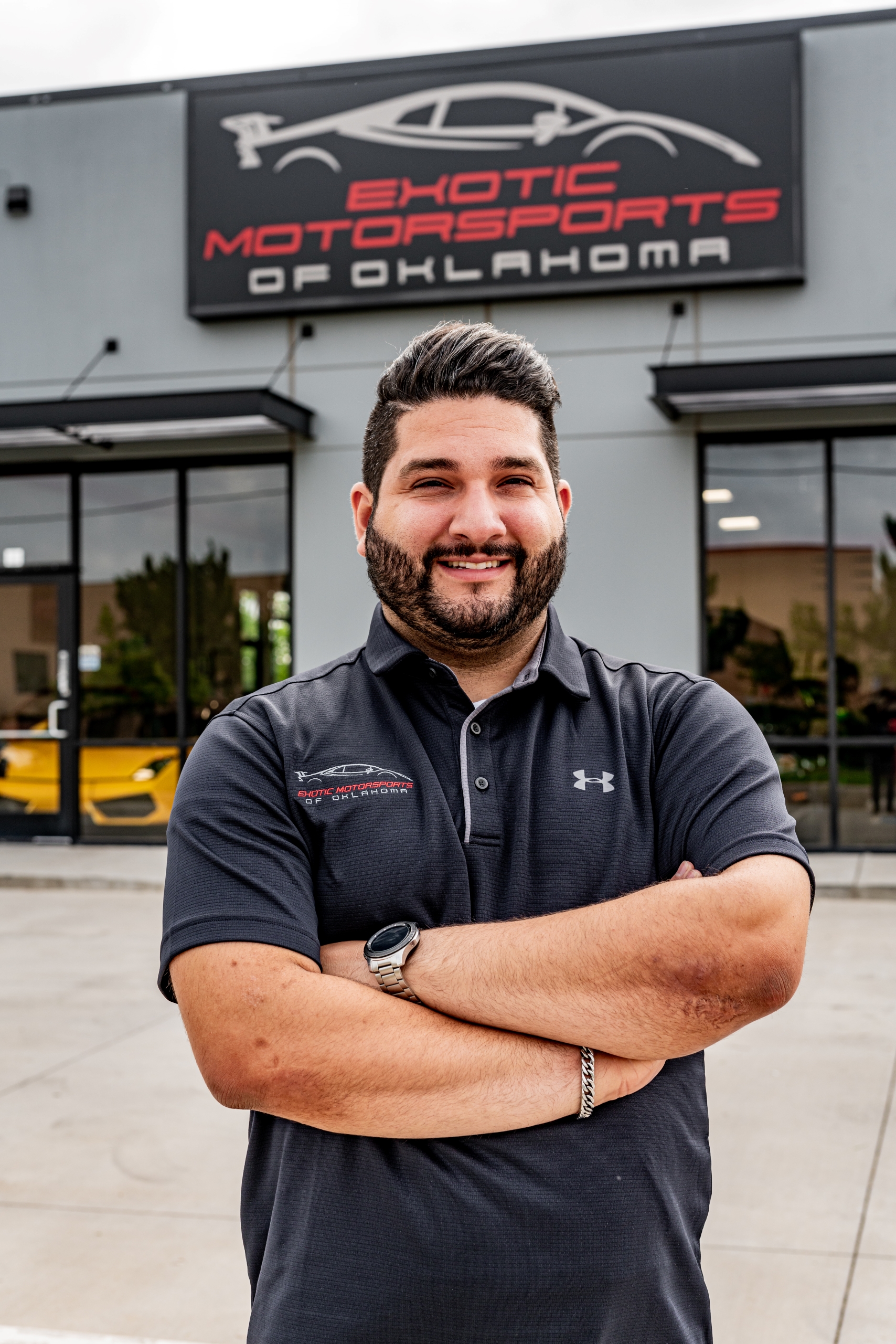 Angel Marin
My name is Angel Marin, I was born in Maturin, Venezuela. I've had a passion for cars for as long as I can remember, I lived in Venezuela until I was 11 years old, moved to Texas, then came to Oklahoma for college. When I was 15 years old I saved up money for my first car, plus with a little bit of help from my father I ended up buying a 2000 Lincoln Town Car with 442,000 miles, a little after a year it got totaled and I bought my second car, a 1988 Lincoln town car. One day while getting fuel, a stranger offered me quite a bit more than I paid for the car and I sold it to him. Shortly after I found another vehicle to purchase, a 1997 Cadillac Deville, which I thought to myself I got pretty cheap which led me to post the car online, and sell for a profit. From there, the rest is history. Ever since that day I decided I wanted to be in the car business. After graduating from the University of Central Oklahoma with a dual BBA specialized in B2B sales and marketing, I went into the wine industry for two and a half years until I got the opportunity to join Exotic Motorsports of Oklahoma to get into the exotic and luxury vehicle industry.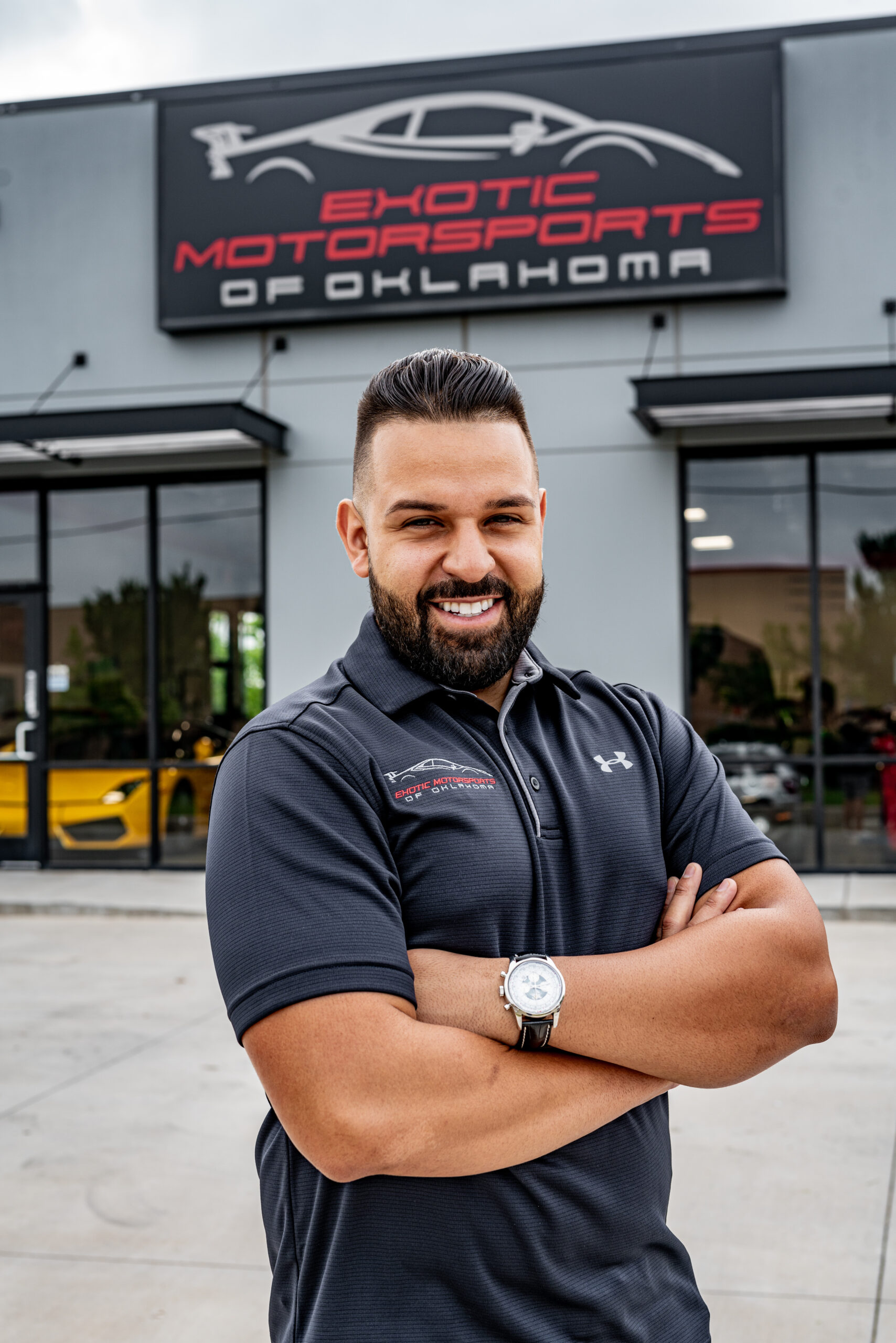 Eliud Villarreal
Hello my name is Eliud Villarreal! I was born in Oklahoma City in 1990 and raised in Yukon my whole life. I graduated from Yukon high school in 2009 and then attended OSU-OKC to become a criminal justice major. While going to college I began a job at Joe Cooper Ford of Yukon as a car salesman after asking the manager what sort of credentials you needed to work there and all he said was that I just needed to apply. At the same time they hired 10 other sales people to see who was best fit to continue with the job. I was fortunate enough to be one of the top two that they selected. After a few months of being in the car business I realized that this is what I wanted to do for the rest of my life so I changed my major in college to business. Selling cars came very easy to me because I was passionate about what I was doing, I was infatuated with cars and my customers could tell so that positivity turned into sales. Not to mention that people preferred to buy from a younger salesman that didn't have the stereo type of a older typical used car salesman. I worked for the Cooper auto group for five years before being let go. I then took some time off to myself to reflect on if staying in the car business was the way to go. I decided to get a job at Fowler Honda as a used car manager. I realized very quickly that I didn't have the passion that I once had due to the fact that for the most part Hondas are basic transportation other than a few models that are very unique. So after three months I took the used car position at Metro Ford. After a year of working there I got the opportunity to go work for an awesome group of people out at Carter Chevrolet in Okarche as the finance Director/ Used Car Manager. It was right before going to Carter that I was at a crossroads on whether or not I wanted to stay in the business. I was just getting tired of the typical dealership lifestyle of working super long hours and dealing with the image that most people had about car dealerships. Carter was different, they were family oriented, family owned and were growing so I enjoyed being a part of their story. At the beginning of 2018 my brother-in-law Braiden and now business partner had the idea to start an exotic car dealer. I didn't think he was serious until he began to send me places to lease. In summary at the beginning it was not something that I wanted to do just because of the fear of being in business on your own and the possibility of not having a steady income. However I feel like the Lord laid down opportunities and helped move things into action that made it clear to me that this is what I was called to do. With that being said I now see that he uses our platform to help reach car enthusiasts to come to know him and for that I am forever grateful! We have now been in business for three years and have been blessed to have awesome customers and friends that help us thrive!!